ProductTraq
Substance Volume Tracking (SVT) in the chemical supply chain
ProductTraq Substance Volume Tracking has been developed from the ground up to track and support regulatory compliance in all types of chemical handling businesses by tracking products and components of products in the supply chain.

We developed ProductTraq to monitor the tonnages of mixture components placed on the market in order to comply with EU REACH legislation.  Our unique configurable Substance Volume Tracking (SVT) application can also be used to track volumes for other regulatory regimes that use tonnage band criteria such as K-REACH.
Many companies now recognise the common disparity between their exisiting Enterprise Resource Planning (ERP) or their sales systems and their need to meet regulatory compliance.  Manufacturing and sales systems, which record items manufactured or bought and sold , often measured in units other than tonnes, were never intended to deal with complex formulations of mixtures within mixtures and perform band calculations based on tonnage.  ProductTraq fills this gap.
In addition to Substance Volume Tracking (SVT), the ability to store and distribute SDS and other documentation, and to communicate with suppliers thorugh a secure portal, ProductTraq enhances companies ability to fulfil today's compliance challenges.
Substance Volume Tracking (SVT) in ProductTraq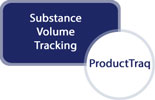 Track volumes for multiple sites, or

 for your client's site if you are an Only Representative or service provider

Create customizable Substance Volume Tracking (SVT) Report templates.  For example: all volumes entering the EU; all volumes going to South Korea; all volumes from one country to another; all volumes containing a certain substance which is part of a mixture within a mixture.  

Use ProductTraq not just for REACH, but for other jurisditions where you need to track by the tonne.

Refer to and track the same substances by their different trade names and suppliers

Define the formulations of mixtures; and mixtures within mixtures, within mixture, within…. you get the point.

Copy formulations from one product to another – sometimes it's only one component that is different between them

Define your own Pack Size based on any unit from your manufacturing or sales data, for example, "200ml cartons".  Define your tonnage multiplier once (how many of those packs make up a tonne) and then record your volumes in more easily obtained units.  
Document Management in ProductTraq
Store attachments at any stage, in tonnages, supply chain link, suppliers, customers

Email to customers and suppliers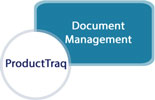 SDS Distribution ProductTraq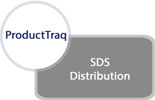 Store and distribute your own/existing SDSs – preserve your SDS assets

Email with secure links for tracking

Monitor who has not received the latest SDS

Customizable email templates

Supports multiple languages
Store attachments at any stage, in tonnages, supply chain link, suppliers, customers

Email to customers and suppliers

Pricing for ProductTraq depends on a number of factors including how may sites or affiliates that you want to use ProductTraq for and how many products and substances you want to track.
Substance Volume Tracking (SVT) along with configurable reporting and Document Management are provided as the core functionality.  Supplier Questionnaires and SDS Distribution are additional optional modules that can be implemented at the same time as the core product, or at a later date.
If you want to discuss pricing, click on the Contact us button and tell us a little about your requirements for ProductTraq.